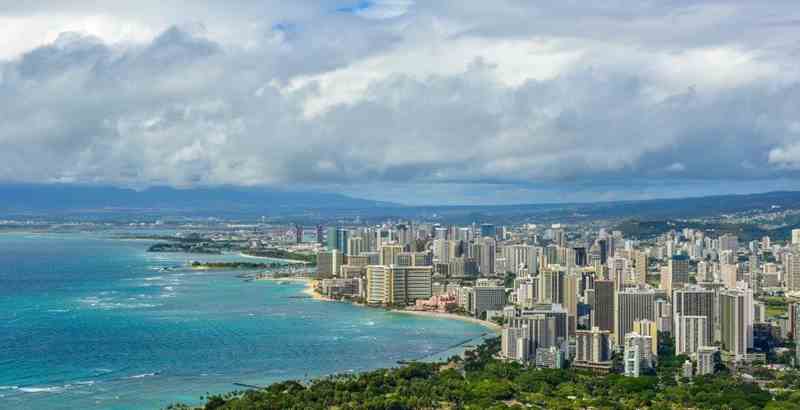 Honolulu Tourist Attractions
Once you arrive at Honolulu Airport on Oahu Island in Hawaii, you are able to reach Honolulu's central district within 3 miles/5 km. Furthermore, travelers can get to the famous city Waikiki on the island within a 15 minutes' drive. Around the island of Oahu, you will find yourself surrounded by some of the most beautiful and unique nature the world has to offer. Here, you will have the possibility to see and explore so many different sites and local attractions.
Below you will find inspiration for some unique, different, fun, memorable and interesting tours you can enjoy together with your travel companion(s).
Oahu: Diamond Head Crater Morning Adventure Hike
The Diamond Head Crater is one of the most famous attractions on the island. Therefore, you should not miss out on the Diamond Head Crater Morning Adventure Hike tour.
You can enjoy a 45-minute adventure hike to Diamond Head Crater summit in Hawaii. You will be ascending the 763 feet high mountain, while the local guide explains Hawaiian history and everything you need to know about the volcanic formation. You will also get information about the different bird and plant species'. Once you reach the top, you can enjoy an incredible 360-degree panoramic view of Waikiki along with the pristine blue Pacific Ocean.
This exciting tour begins with a short introductory talk by the local, nature guide. Besides the volcanic creation and Hawaiian history, you will also learn about European discovery, early cattle ranching, and modern-day military use of the 'Gibraltar of the Pacific'.
On the way to the top, you will stop at various points to rest and photograph the crater. Along the hike, you will walk up rocky stairways, venture into a dark 200-foot tunnel and find your way to the crater summit.
The entire excursion will take approximately three hours and is a truly memorable adventure. Once your tour has finished, you will be given a certificate of achievement that states that you successfully made it to the famous summit of Diamond Head Crater.
From Waikiki: Manoa Falls Rainforest Tour with Healthy Lunch
Join this tour from Waikiki: Manoa Falls Rainforest Tour with Healthy Lunch and trek through the Manoa Valley Rainforest to a breathtaking 150-foot waterfall. Along the way, you will be accompanied by an expert guide. This adventure is suitable for all ages and fitness levels.
All guests will be picked up by their guide in an air-conditioned luxury vehicle in Waikiki. Then you will go straight to the Manoa Falls trailhead. Follow the 1.5-mile trail as it goes through a tropical rainforest. This rainforest has been used in many blockbuster films and TV shows, including Jurassic Park and Lost.
As you walk along the trail, you will take in the natural beauty of the Hawaiian rainforest and the sounds of native birds that you cannot find anywhere else in the world. You will explore and discover many hidden secrets and treasures along the way, including a bamboo forest and natural tree arch. Your guide will share interesting Hawaiian cultural facts and history along the hike.
At the end of the 45-minute hike, you will reach 150 feet of cascading freshwater. This is the Manoa Falls, which is the tallest accessible waterfall in Oahu, and it is a wonder not to miss. On your way back, it is downhill along the trail.
Once the hike has come to an end, you will enjoy a healthy power lunch at the local favorite Kaimana Farm Cafe. Once you finish our lunch, you will be taken back to the pickup place in Waikiki at around 1:30 pm.
Pearl Harbor & USS Arizona Memorial Tour with Pick-Up
Travelers cannot visit Oahu Island without a visit to Pearl Harbor and the USS Arizona Memorial. With this ticket, you can skip the long lines to the Pearl Harbor attraction on a small group tour from Waikiki. You will also learn more about the events that led to the US joining World War II at the USS Arizona Memorial.
Go back in time to December 7, 1941, and learn how the Japanese made a surprise attack on America at Pearl Harbor. You also get the chance to climb aboard the US Navy shuttle boat for a boat tour around the USS Arizona Memorial including a guide. Gain access to the Road to War and Attack museums where you can watch real film footage of the attack.
Before your tour ends, you will pay a visit to the historic downtown Honolulu. Then you will be dropped off at your hotel in Waikiki. This will be an interesting and emotional tour that you will not forget!
Oahu: 3-Hour Dolphin Watching & Snorkel Excursion in Waianae
Book yourself this Oahu: 3-Hour Dolphin Watching & Snorkel Excursion in Waianae tour if you want to experience some of the amazing animals that live around the waters of Oahu Island. You will be looking for dolphins and whales on this snorkel excursion at two of the best snorkel sites in Oahu, Hawaii. Hopefully, you will be able to see spinner dolphins and look for whales breaching from a comfortable cruise ship.
Your tour will start once you climb aboard of the luxury 34-foot cruise ship named "Nai'a I": Then you are ready to start looking for dolphins and whales playing in the lovely waters of Oahu. You will get close to the spinner dolphins and other colorful marine life of the Pacific Ocean.
All guests will be accompanied by a friendly and experienced team that will make sure you have a great time. There will also be opportunities to snorkel among some of the best reefs in Hawaii. Guests can choose between two daily excursions, departing at either 07:00 am or 10:30 am from the west side of Oahu.
Dolphin sightings and swimming in the water with the dolphins is a daily event not to miss out on. During the winter months from December to May, guests can enjoy the bonus of spotting humpback whales as you look for lovable dolphins.
UNBEATABLE VALUE CAR RENTAL

FREE
Amendments,
FREE
Cancellations,
NO
card fees!

airport_shuttle Need Airport Transfers?
Useful Information about Honolulu Airport