HONOLULU AIRPORT (HNL) INFORMATION
Origin
Airline
Flight no.
Scheduled
Est./Actual
Status
No flight arrivals were found at Honolulu Airport.
Destination
Airline
Flight no.
Scheduled
Est./Actual
Status
No flight departures were found at Honolulu Airport.
Car Hire at Honolulu Airport
UNBEATABLE VALUE CAR RENTAL
Free Amendments | Free Cancellations | No Card Fees




Honolulu International Airport - All Information on Honolulu Airport (HNL) Honolulu Airport
300 Rodgers Blvd, Honolulu, HI 96819, United States
phone +1 808 836 6411
phone+1 808 836 6683 (Lost + Found)
emailairvisitinfo@hawaii.gov
Facts and History about Honolulu Airport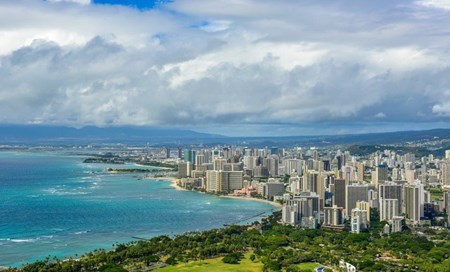 Honolulu International Airport, also known as Daniel K. Inouye International Airport is located approximately 3 miles/5 km northwest of Honolulu's central district, on Oahu Island of the State of Hawaii, the United States.
The nearest alternative airport is Molokai Airport (MKK), which is located 50.4 miles/81.1 km from Honolulu International Airport. The capital city of the United States is Washington, D.C.
The airport is named after Daniel K. Inouye, who was the former Hawaiian US senator from 1963 until 2012. Honolulu Airport serves as the main hub of Hawaiian Airlines, which is the largest Hawaii-based airline. It is the 29th busiest airport in the United States and handled 20,990,932 passengers in 2018.
Honolulu International Airport carries the international airport code of HNL (IATA) and PHNL (ICAO). The airport sits in a slightly elevated location at 13 feet/4 meters above sea level at 21°19′07″ N and 157°55′21″ W.
Arrivals, Departures and Airlines at Honolulu International Airport
Airport Access
Honolulu International Airport has ensured that passengers with disabilities can easily move through the airport facilities. Travelers with disabilities will generally find that the airport is wheelchair accessible. Furthermore, you can find assigned staff to help provide any assistance to passengers with disabilities around the clock.
Airlines will provide assistance to passengers with special needs through their Skycap (porter) services. However, please make sure that you make a relevant request at least 48 hours prior to the departure of your flight for any special services to ensure assistance.
For further information, please visit Honolulu International Airport's special assistance page.
It is easy for passengers to get to and from Honolulu International Airport by road. The main roads leading to the airport are Nimitz Highway and the Queen Liliuokalani Freeway of Interstate H-1. At the airport, travelers will find a wide selection of parking options including the international parking garage, Terminal 2 parking garage, Terminal 1 parking garage as well as bicycle and motorcycle parking.
Terminal Information
Honolulu Airport operates four active runways, including the 12,000-foot long Reef Runway. This was the world's first major runway built offshore.
The airport serves three terminals; Terminal 1 (Inter-island Terminal), Terminal 2 (Overseas Terminal), and Terminal 3 (Commuter Terminal). Terminal 1 includes 13 gates that consist of A13-A20 and B1-B5. Terminal 2 has 29 gates across three concourses and the main terminal building. Those gates include C1-C9, D1-D2, E1-E10, F1-F2, and G1-G10. Finally, Terminal 3 has just one ground-level gate, which is gate H1.
Passengers can take the Wiki Wiki Shuttle bus that provides inter-terminal transportation between the ticket lobbies of all three terminals and between the concourses in terminals 1 and 2.
Please refer to the airport map for more information.
Airport Information
The airport offers a Visitor Information Program (VIP) to assist any travelers going to and from Honolulu Airport. The information counter is staffed from 5:00 am to 10:45 pm every day. Visitors can find 15 VIP counters located at HNL the following places:
Terminal 1
Ground Level
At Baggage Claims 8 and 11
Second Level
Inside the Terminal, across from Burger King
Terminal 2
Ground Level
Outside the International Arrivals Building exit fronting Rodgers Boulevard
At Baggage Claims 18, 20, 25, 27/28 and 29/31
Second Level
One (1) portable booth in Concourse C
One (1) counter near Gates D1 and D2
One (1) counter in Concourse E
One (1) counter in the Ticketing Lobby, opposite the Food Court
One (1) counter near Gates F1 and F2
One (1) portable booth in Concourse G
All travelers can find ATM's provided by three different companies at the airport. These are; First Hawaiian Bank, Cardtronics, and ATM Ban Machine. The ATM's can be located in the following places:
First Hawaiian Bank
Terminal 1, 2nd Level, across Gate A16
Outside Foreign Arrivals
Terminal 2, the Ground level between Baggage Claim 19 and 20
Cardtronics ATM
Terminal 2, Baggage Claim 31 at the Ground Level, next to the Visitor Information Program (VIP) counter.
ATM Bank Machine
Terminal 2, 2nd Level, across Gate D2
Rental Car area in the parking lot
All passengers that believe to have lost an item in one of the terminals at HNL Airport should contact the Lost and Found Office. The Lost and Found department is located on the ground level of Terminal 2 Parking Garage opposite Terminal 2. The office is open Monday to Friday from 8:00 am to 4:00 pm. The contact information can be found below:
Lost & Found Phone: +1 808 836 6683
Please note, that if you have lost any item on-board of an aircraft you will need to contact your airline directly.
Car Rentals
A wide range of the major rental car companies provides car hire at Honolulu Airport, including Alamo, Avis, Budget, Enterprise, Europcar, Hertz, National, and Thrifty. Travelers will also find a few local car hire companies including Advantage and Economy car hire at the airport.
We strongly advise all passengers to make their car hire reservations as soon as possible before arriving at Honolulu Airport. This is due to the fact that there is only a limited number of vehicles available for walk-up consumers.
Transport
All guests can find easy travel options to and from the airport via buses, shuttle service, and taxis as well as car rental.
The City & County of Honolulu offers bus services to and from Honolulu Airport. The buses run approximately every 30 minutes, depending on the route number, which includes no. 19, 20, and 31. Furthermore, taxis are available on the center median in front of the baggage claim areas from the terminals. A taxi journey from Honolulu Airport to the City Center of Waikiki takes approximately 15 minutes.
Hotels near Honolulu International Airport
There are a number of hotels to suit all budgets and requirements at or near Honolulu International Airport.
Parking at Honolulu International Airport
See options for parking services at Honolulu International Airport.
Additional Services and Amenities at Honolulu International Airport
At Honolulu International Airport you will find the usual array of bars and restaurants, airport lounges and shops.
Things to do in Honolulu
There are a number of activities to suit all ages and interests in the region - see a selection of tourist activities in Honolulu, Hawaii in the United States of America.
Airport Contacts
Address: 300 Rodgers Blvd, Honolulu, HI 96819, United States
Phone: +1 808 836 6411
Lost & Found Phone: +1 808 836 6683
General Email: airvisitinfo@hawaii.gov
Lost & Found Email: N/A
Official website: http://airports.hawaii.gov/hnl/
Local Information
Drive on: Right
Electricity: 120V/60Hz
Plug Type: A, B
Currency: United States Dollar ($)
Services at Honolulu Airport
Useful Information about Honolulu Airport